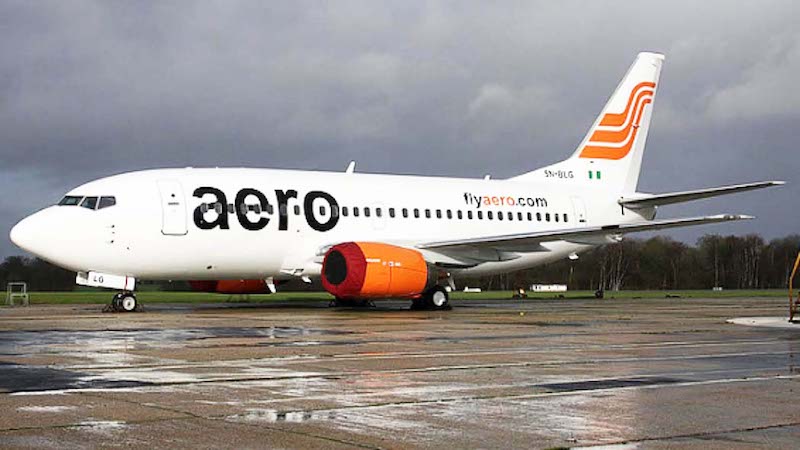 Will Aero survive these austere times?
Aviation
Nigeria's oldest carrier, Aero Contractors, is nearly down but has the potential to rise again and become one of Nigeria's most successful carriers, writes Chinedu Eze
There are key factors working in favor of Aero Contractors. These include invaluable goodwill, a highly skilled and experienced workforce, a training school and an invaluable aircraft maintenance facility. What goes against the first Nigerian carrier is that it has no operational funds; it is crippled by a N50 billion debt and except for two aging aircraft, Aero is devoid of operational equipment. These latter downside factors can be a Nunc dimittis for any airline in Nigeria.
But Aero is still walking, hoping for financial intervention. The Asset Management Corporation of Nigeria (AMCON) under which the airline is in receivership was silent. It may have run out, but looking at how Arik Air and Aero Contractors fared under AMCON, many in the industry are of the opinion that the government agency's foray into the aviation industry has been a failure. Not being able to put Arik Air and Aero Contractors on a good profitable pedestal is a failure "on AMCON's side" according to many industry observers.
maintenance facility
But Aero was a hope in 2018 and 2019; before COVID-19. It was then that it rejuvenated its maintenance center. In 2018, the Nigerian Civil Aviation Authority (NCAA) issued an Approved Maintenance Organization (AMO) certificate to the company, qualifying it to perform aircraft maintenance up to C-check level on Boeing Classics : B737-300, B737-400 and B737-500.
Aero then expanded its maintenance hangar to efficiently accommodate a Boeing 737 and partnered with AJ Walters of the UK for tooling and spares; the South Africa Airways Technical and other international maintenance organizations to ensure that its aircraft maintenance facilities were up to global standards.
For years, the airline has performed maintenance on Bombardier Dash 8 helicopters and aircraft up to D and C-check respectively.
The airline also hoped to obtain certification from the European Aviation Safety Agency (EASA) and the US Federal Aviation Administration (FAA) before the middle of next year.
"The Nigerian Civil Aviation Authority (NCAA) has granted certification to Aero to perform C Checks on Boeing B737 Classics. I have always said that Aero Contractors Maintenance Organization has been around for about 58 (2018) years and that it has been checked and improved.Over the years he has been remarkably successful in servicing small body aircraft like the Bombardier Dash-8, Hawkers and other private jets.
"But there has always been a limiting factor for Aero Contractors to perform C checks on larger aircraft, so now we have a full overview of what is needed for us to achieve the great feat of performing maintenance C-check on the classic Boeing B737s Finally we got all our people ready and everything and sent them over to the NCAA to review everything for approval What we needed was to meet the specifications to perform C checks on larger aircraft, the classic Boeing B737, which includes the B737-300, B737-400 and B737-500," former Aero CEO Capt Ado Sanusi told THISDAY.
This maintenance facility was a lifeline for Aero Contractors. When it began to maintain aircraft for other airlines, it began to derive revenue from another source other than the regular operations and rotors division.
In early 2019, Aero had started receiving offers to perform C-checks on third-party aircraft (aircraft from other airlines), but the company started the C-check with its aircraft and would retain two before performing the control C on another. , which was already pending.
Aero rotors
When Aero Contractors was established in 1959, it targeted the oil and gas industry, to provide shuttles and related services, which formed the basis of the airline's revenue until 2000 when it launched regular flight service. In March 2013, industrial action blocked flights for 18 days, in a dispute over outsourcing and downsizing. The strike, from March 13-28, grounded Aero's active fleet of nine planes and is believed to have cost the airline at least N10 billion in ticket sales.
AMCON, in Aero's financially yellowed status, took a 60% stake in Aero in 2013 and in August of the same year took over management of the airline. But in 2021, Aero shut down its rotor wing, bringing in money for the airline because, in receivership, E&P companies were stingy in doing business with the airline.
By the time AMCON took over management of the airline, Aero Contractors had no less than eight helicopters (rotary-wing) and nine aircraft (fixed-wing), but its helicopters had fallen to just one by December 2020.
The airline's managing director, Captain Abdullahi Mahmood, admitted to THISDAY the precarious state of the airline and identified the factors that led to the debilitating condition of the native carrier.
Captain Mahmood revealed that management is doing everything possible to revive the carrier, saying the factors that have brought Aero to its knees are the contagious disease that infects other airlines in the sector.
He said high cost of forex, high cost of maintenance, high cost of aviation fuel and low traffic are responsible for the poor state of the airline.
"The cost of maintenance is high, foreign exchange is not available and the high price of fuel adds to the fact that after the peak Christmas season, passenger traffic has been low from late January to the Christmas period. Easter. Then we also have to deal with overhead costs, which are so important.
"When you don't have traffic and what you generate can't cover operating costs, you can't survive. We're still operating but from the pace we're going, we can shut down at any time" , said the general manager.
He also explained that because the planes in the fleet are old, they break down very often, so there is a high maintenance cost and spare parts have to be imported and even insuring the plane requires foreign currency.
Aero's management also said that while the airline maintenance facility generates revenue, it cannot make a profit as the funds generated are used to pay for staff and overhead.
The comeback
THISDAY also spoke with the former CEO of the airline, Captain Ado Sanusi, who also said that the airline is very unlikely to survive except that it urgently received new planes and new funds.
Sanusi, who took over the airline in February 2017 while in a coma, told THISDAY that the airline was coming back from closing when he started presiding over its affairs.
He recalled that the airline had two planes, which needed major checks, the C-check, passenger confidence was low and three of the airline's planes were in overseas maintenance facilities.
"The airline was on the verge of collapse when we took it over," he said.
Sanusi further explained that the airline was in receivership, as it was managed by AMCON, so what the airline needed was more planes, which would allow it to increase its revenue.
THISDAY learned that AMCON had invested so much money in the airline then but was not ready to invest more, so Sanusi and his team considered whether the C-check could be done in-house and airline engineers got to work. They took the classic Boeing 737 and successfully completed the C check and received Aircraft Maintenance Organization (AMO) certification from the Nigerian Civil Aviation Authority (NCAA).
"The success of C-check opened the door for us because it gave passengers confidence, knowing that we could maintain our aircraft and from 40 to 50% load factor, our passenger traffic increased to 80%. AMCON was delighted to continue to support us. We sold assets we didn't need and brought back one of the three aircraft flown overseas for maintenance and we now had two Boeings and a Bombardier Dash 8. Our revenue went from 180 million naira to 2 billion naira. We have done a lot.
"We purchased the Boeing B737-300 engines from United Nigeria Airlines. With our income, we revamped the airline's rotary wing and reportedly struck a multi-million dollar deal with Total for shuttle service, but since the airline was in receivership, we didn't. We even entered into a strategic partnership with the indigenous society to revive the rotary wing and we were in this process when COVID-19 arrived," Sanusi said.
The COVID-19 lockdown was the airline's downfall, like many others in other parts of the world, Sanusi said, adding that it was during the lockdown that the maintenance, overhaul and (MRO) came to life and began to engage in third-party maintenance, i.e. servicing other airlines' aircraft.
"Immediately after the lockdown, we were ready to go into business. Passenger demand was unprecedented. Aero's perspective was very good. He had a chance to recover, but the biggest challenge was fleet renewal. The average age of the aircraft was late 20s or early 30s. We communicated to shareholders. We couldn't do a D check, which was a heavy check, but then we got approval and we did a D check on the Boeing 737, after which we would pull the plane out, hoping there would be a renewal of the fleet to make the airline a constant concern," Sanusi said. Aero is described as a fully-designed airline as it has a regular operations wing, rotary wing, MRO and training school; no other airline in Nigeria has come close.
On why the airline was going bankrupt, Sanusi said, "The airline needs fleet renewal without which it cannot survive. External factors include the high cost of aviation fuel, the scarcity and high cost of forex, and low passenger traffic, which was extraordinarily very low. When I left the airline, I had a good chance of surviving, even coming out of bankruptcy. But it required strict financial management," he said.
There is still hope that Aero Contractors will pick itself up.