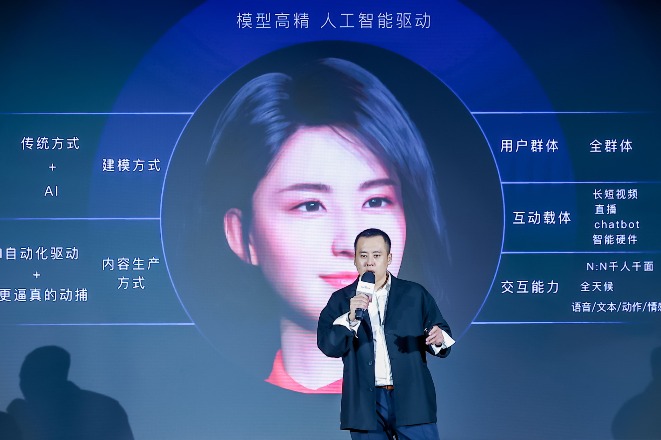 Virtual humans ready for big breakthroughs
Gestures, expressions, voices resembling those of real people
China's virtual human industry is poised for rapid growth, with applications in industries including broadcasting, entertainment, retail, finance and education. It's also possible that everyone will eventually have their own avatar, experts said.
The gestures, expressions and voice of digital humans will approximate those of real people thanks to technological advances such as artificial intelligence, computer graphics and motion capture, they said. Motion capture is a technology that can assess a person's movements and translate them into a computer-generated 3D character.
Chinese tech giant Baidu Inc has released its digital avatar platform, Xiling, which integrates digital human generation and content production, as the company seeks to leverage its intelligence capabilities artificial in the fast-growing metaverse. The Metaverse is the immersive online world where people can come together virtually and interact through advanced technologies.
The platform provides a complete set of services for the creation and operation of virtual hosts, virtual celebrities and virtual brand spokespersons for clients in the fields of radio broadcasting, television, Internet , finance and retail, enabling more industries to use virtual humans.
User demand and technological advancements have become the main driving forces of the digital human industry, said Li Shiyan, director of Baidu's Intelligent Cloud AI Human-Computer Interaction Lab.
Political support, capital inflow and improved computing capabilities have also spurred the development of the digital avatar industry, Li said.
According to Baidu, several technologies based on artificial intelligence, such as natural language understanding, voice interaction and intelligent recommendation, were used to create digital avatars.
The metaverse, among tech's hottest buzzwords, promises a future in which the virtual and physical worlds are inextricably interconnected. Digital avatars serve as a human-computer interface and are set to become the fastest growing industry and revenue generator in the metaverse, experts said.
China Central Television (CCTV) and Baidu AI Cloud announced the launch of the first AI sign language anchor, which will be used during the Beijing 2022 Winter Olympic and Paralympic Games.
Baidu's sign language translation engine and natural action engine give the AI ​​sign language anchor a greater ability to be understood in sign language expression as well as a accurate and consistent presentation, the company said.
The Xiling platform has also produced a series of digital humans, such as CCTV virtual host and Baidu virtual spokesperson named Xijiajia.
Baidu worked in cooperation with Shanghai Pudong Development Bank, China Everbright Bank and China Unicom to launch a personalized service-oriented digital human to improve operational efficiency and reduce labor costs.
However, some bottlenecks are hampering the large-scale application of digital avatars, Li said.
Each link in the digital avatar industrial chain is relatively fragmented, which means that there is not enough effective coordination between them. Service-oriented digital avatars also cannot establish an emotional connection with users, and they are expensive to produce.
Li said that at present, several technologies such as computer modeling, multi-dimensional image creation and motion capture are mastered by foreign companies, while Chinese companies are gaining the upper hand in the field of applications. .
The total size of the virtual human market in China is expected to reach 270 billion yuan ($42.58 billion) by 2030, according to an industry report released by QbitAI, an AI-focused industrial services platform and advanced technologies.
Revenue generated by virtual humans designed with specific characteristics, such as virtual celebrities, is expected to reach 175 billion yuan in China by 2030, while service-oriented virtual humans are expected to exceed 95 billion yuan, according to the report.
Yu Jianing, executive director of the metaverse industry committee of China Mobile Communications Association, a Beijing-based industry association, said the accelerated application of 5G and the research and development of 6G wireless technology generation, will power the digital human industry. .
"Although the digital avatar segment is still in its infancy, the appearance, gestures and actions of digital humans will be more refined and closer to those of real humans in 2022," Yu said, adding that digital humans Virtual users will become smarter and able to give personalized feedback based on real-time information as well as advancements in AI-based technologies.
Digital humans will no longer be limited to cultural and creative domains such as virtual celebrities. Instead, they will integrate with a variety of industries to boost the real economy.
In addition, the country has issued policies to encourage innovative development of virtual humans, he added.
China will promote the wide application of virtual anchors and animated sign-language presenters in the production of news programs, weather forecasts, variety shows, and science and education programs, according to a plan released by China. National Radio and Television Administration in October.
The global digital human market is expected to reach $527.58 billion in 2030, with a compound annual growth rate of 46.4%, according to recent analysis by Emergen Research, a global market research and consulting firm.
Pan Helin, executive dean of the Digital Economy Research Institute of Zhongnan University of Economics and Law, said the biggest obstacle to the large-scale application of virtual humans is technology, because it is difficult for virtual humans to perform complex tasks efficiently. scenes, and also the cost of smart applications is high.
The interactive experience with digital avatars will need to be continuously improved to give users a greater sense of reality when interacting with virtual humans, Pan said.