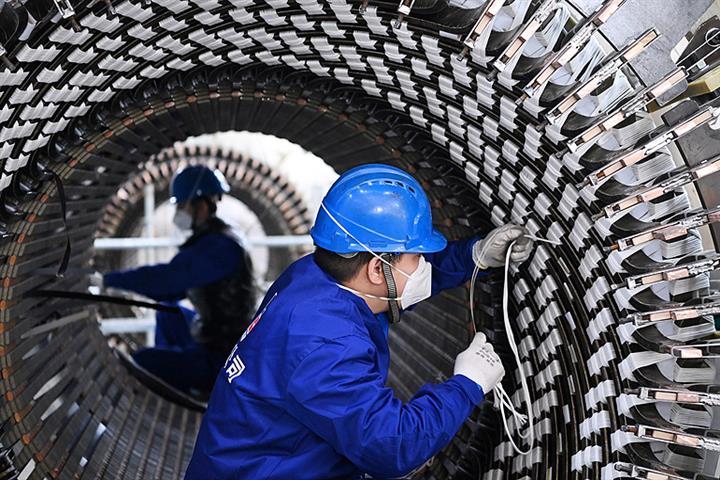 Chief economists say China must take steps to meet 5.5% GDP target in 2022
(Yicai Global) April 8 – China needs to add policy support to meet its gross domestic product growth target of 5.5% this year, according to chief economists surveyed by Yicai Global.
Nearly 60% of respondents said the government needed to increase its political support to achieve the target in the current economic environment. Currently, their average estimate was a 5.19% rise in GDP for 2022. The survey involved 17 chief economists from major Chinese financial institutions.
The remaining more than 40 percent of respondents said China could still meet the 5.5 percent economic growth target set at the March National People's Congress meeting.
All financial professionals said China's economy recovered in the first quarter from the fourth quarter of last year. They predicted the first quarter growth rate to be 4.49%. In 2021, the country's GDP growth has gradually slowed with an increase of 4% in the last quarter.
The pandemic is back. Since March, China has experienced new outbreaks of Covid-19 in various regions and this has affected the country's macroeconomy more severely than the pandemic did for all of 2021, Zhu Baoliang said in a panel. State-supported think tank called State Information Center.
The pandemic is expected to have dampened China's economic growth by 0.3 percentage points last year, Zhu said.
Lockdown measures by some cities to control the spread of Covid-19 will certainly affect China's economic growth, especially in the service sector, said Zhou Xue, an economist at Mizuho Securities. Thus, the central bank should issue more relief measures, Zhou added.
There are other external problems. If the Russian-Ukrainian conflict lasts more than three months, global economic growth could slow by 0.5 to 1 percentage point this year, Zhu said. Meanwhile, China's number could be reduced by 0.2 percentage points, he added.
The proposed measures should target small businesses. The government should adjust its policies primarily to stabilize employment and operations of small and medium-sized enterprises, said Li Wenlong of the Pan-Asian Research Institute of Digital Economy. It should increase support for SMEs in terms of financing, taxation and government subsidies to stabilize employment and provide basic income for residents.
The government should improve the business environment for enterprises and issue regulatory policies for major industries to stabilize market expectations, Zhu from SIC suggested. Meanwhile, it should ease monetary policy appropriately by reducing the reserve requirement ratio and interest rates while stabilizing the real estate market and infrastructure investment, he added.
China needs to introduce more active policies to stimulate demand, said Liang Zhonghua of Haitong Securities. Given the current relatively loose fiscal policy, the government should strengthen its support for infrastructure construction and introduce more active policies in the real estate sector to ensure "a good cycle and healthy development" of the macroeconomy, said added Mr. Liang.
Editors: Tang Shihua, Emmi Laine, Xiao Yi