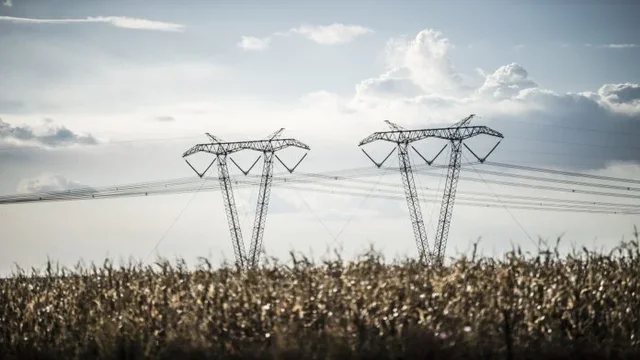 Breaking News – Eskom caught in a network of malfunctions
By Ian Siebörger, Lecturer in the Department of Linguistics and Applied Linguistic Studies, Faculty of Humanities, Rhodes University
"Eskom" must be one of the most hated names in South Africa, a reputation that only took root after another round of power cuts in May and indications of more to come as winter s deepens.
But a closer look at online news from May shows that our power crisis is not the work of a single culprit, but a web of wrongdoings and dysfunctions that will take strong political will to unravel. This is shown by an analysis of the words most strongly associated with Eskom in a database of 94 online press articles from May News24 and SchedulesLive.
The word with the strongest association with Eskom in the May news is 'owe', not referring to Eskom's debt but to that of the municipalities that owe Eskom. "Municipalities" is another word strongly associated with the name of the utility.
In May, Eskom was in the constitutional court seeking leave to appeal against a High Court judgment declaring that the utility cannot limit the amount of electricity it supplies to two municipalities which together owe Eskom almost R3 billion. These are Ngwathe Local Municipality in Parys, Free State and Lekwa Local Municipality in Standerton, Mpumalanga.
Taxpayers' associations in these two areas have successfully argued in the High Court that residents should not be punished for the malfunctioning of their municipalities by limiting their electricity. They used the phrase "human catastrophe" to describe the consequences of Eskom's rationing of power.
Residents of equally broken municipalities across the country would sympathize. In Makhanda, Eastern Cape, where I live, our municipality violates a court order ordering it to continue to pay Eskom on time.
In this case, the municipalities are the real bad guys – residents and businesses (well, a lot of them) pay the municipalities, Eskom provides the electricity, but the municipalities don't pay Eskom month after month.
Richard Gaybba, the chairman of the Grahamstown Business Forum, who is one of the litigants in Makhanda's Eskom case, put it bluntly: "We understand that almost every municipality in the country has used Eskom as an overdraft facility. "
When will government at all levels stop wasting funds and starving Eskom of the money it needs to keep operating?
The word 'supplier', which had the second strongest association with Eskom in the May news, speaks to another network of misdeeds crippling public service. It turned out that Eskom chief executive André de Ruyter threatened to resign just three months after his appointment following a dispute with Sifiso Dabengwa, a member of Eskom's board of directors.
Dabengwa opposed the cancellation of Eskom's contract with Econ Oil, a former fuel oil supplier overpaid by one billion rand. The utility now tries to recover the money.
Eskom's Chief Operating Officer, Jan Oberholzer, and De Ruyter's name were strongly associated with Eskom in the May news, ranking third and fourth respectively. A strong and clear takeaway from the messages they sent recently is that South Africa needs to add power generation capacity to Eskom's existing power plant fleet, and fast.
Oberholzer said on Wednesday May 11 that we need 50,000 megawatts of new power generation capacity over the next 13 years. At present, the entire Eskom fleet stands at 45,000 MW. Meanwhile, capacity building projects are moving at a snail's pace. An emergency supply round for power generation capacity launched in 2019 has still not been concluded. In other words, the government and companies must do everything possible to add new power plants to the grid.
All of this means that the recent physical acts of sabotage at Eskom's power plants – which have made 'acts' appear as the word with the fifth strongest association with Eskom – only add insult to injury. insult. This sabotage is now so brazen that there is "no attempt at disguise" this. The perpetrators, who clearly have insider knowledge of how power plants work, are sabotaging not only Eskom but the country's well-being, sending us to higher levels of load shedding.
I could go on listing other sources of Eskom's misfortunes, but I'm sure now the picture is clear. Eskom is in its current state not only because of its own shortcomings but also because of gigantic lapses in the competence and morality of local governments, corporations and corrupt employees. When you boil it down, these people are willing to harm our economy and the well-being of their fellow South Africans for the sake of personal enrichment.
But rather than blaming it all on "them", perhaps this should be a cause for introspection. How has this network of corruption extended so far in South African society? How to initiate a revolution in ethical behavior to dismantle it?
Original article: https://mg.co.za/opinion/2022-06-11-eskom-caught-in-a-web-of-dysfunctionality/